Ondo Bi-Monthly Recap | Apr-May 2022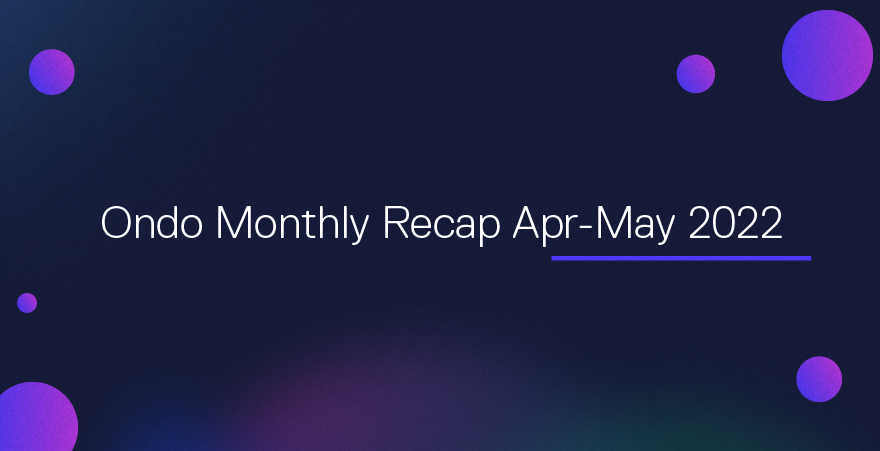 Welcome to the very first edition of our bi-monthly recap. We first released this content via email, so please subscribe here if you don't want to miss our latest updates!
Announcements 📣
Coinlist
We were delighted to share the launch of the Ondo token and DAO governance, via initial listing on Coinlist.
The registration deadline was May 9 at 12:00 UTC and the token sale begins May 12 at 17:00 UTC.
Details and registry information can be found here.
Series A Funding
We successfully raised a $20M Series A to accelerate the adoption of DeFi! This latest round of funding was led by Founders Fund and Pantera Capital.
Strategic investors joining the round included Coinbase Ventures, GoldenTree, Wintermute, Steel Perlot, Tiger Global, and Flow Traders.
Read more about our Series A funding round.
New Developments 🛠
Curve & Convex Vaults
We are excited to announce the imminent release of Ondo's new Curve & Convex vaults.
Last year, Ondo introduced vaults enabling investors to provide single-sided liquidity on decentralized exchanges (DEXs) while adjusting their risk/reward level. We were blown away by the positive feedback from the community, DAOs, and other investors. Our vaults have provided $200M+ in liquidity to over a dozen projects.
The new release builds on our existing features — from risk tranching and feeless auto-compounding — while introducing a number of new benefits for stableswaps: integrations with Curve & Convex, multi-pair vaults, and flexible tranche ratios.
For more details about these vaults, check out this Medium post.
agEUR-as-a-Service
On April 30, the Angle community approved a partnership with Paladin to utilize Ondo's Liquidity-as-a-Service offering. This partnership will enable the use of $agEUR as liquidity for $PAL.
Angle will become the first project to utilize Liquidity-as-a-Service with a euro-pegged stablecoin. Angle's approval follows an initial proposal by the Paladin community, who overwhelmingly voted to approve PGP-10 on April 30, with 14.6M (95.6%) positive votes.
Read more about agEUR-as-a-Service here.
Roadmap Alpha 🛣
Curious about what else we've got planned? See below for our latest roadmap.
Community 🏘
The last month was an incredible period for community growth. We are overwhelmed with both the level of support and engagement from our brilliant community — thank you to everyone who took a part in this.
We hope that you continue to play a part in, and benefit from, our mutual growth. Our Discord community grew 10x and we are delighted to say that~100 new community members recently earned the Ondonian role! A special thanks to all Ondonians and mods for your outstanding contributions to our community.
DAO-to-DAO
Are you involved in a DAO that could benefit from Ondo products? We're always looking to expand our partnerships! Make an introduction in the dao-to-dao Discord channel or send an email to partnerships@ondo.finance.
Ondo Finance is building a decentralized investment bank. We are building software that finds attractive investments across the traditional and DeFi landscape, repackages these assets into easily understood risk/reward offerings, and then matches and offers these assets to both institutional and retail investors. Join our community to stay up-to-date with our latest developments and product launches!
Vaults | Discord | Twitter | Telegram | Docs | Github
Legal Disclaimers
This announcement has been written and published by Ondo Finance Inc. and provides no guarantee, commitment, or undertaking to utilize any of its assets, funds, properties or personnel, Ondo Protocol users or other protocol participants. Ondo Finance does not owe, and does not intend to assume, any duties or obligations to Ondo Protocol users or participants, other than duties or obligations arising under laws of general application, such as non-waivable torts.
To the maximum extent permitted by applicable law, all software relating to Ondo Protocol is being provided on an as-is, where-is basis, with no representations or warranties being made to Ondo Protocol participants and with no liability to Ondo Finance or any other person involved in the development of Ondo Protocol. The statements set forth in this announcement also are not intended to be representations, warranties, guarantees or assumptions of duty or liability of any kind, and Ondo Finance hereby disclaims the foregoing and will not be liable for any damages arising from use of Ondo Protocol. In the event of any conflict or inconsistency between this announcement or any other communication and the terms of any software license involved in Ondo Protocol, the terms of the software license shall govern to the exclusion of this announcement and such other communications.
The forward-looking statements in this announcement are subject to numerous assumptions, risks and uncertainties which are subject to change over time. Such assumptions, risks and uncertainties could cause actual results or developments to differ materially from the results and developments anticipated by us. Even if our anticipated results and developments are realized, such results and developments may nevertheless fail to achieve any or all of the expected benefits anticipated by this announcement. We reserve the right to change the plans, expectations and intentions stated and implied herein at any time and for any reason or no reason, in our sole and absolute discretion, and we undertake no obligation to update publicly or revise any forward-looking statement, whether as a result of new information, future developments or otherwise.
This announcement is not intended to provide legal, financial or investment or other advice and we recommend that you do not rely on, and do not make any financial or other decision based on this announcement.