Ondo Raises $20M in Series A investment round led by Founders Fund and Pantera Capital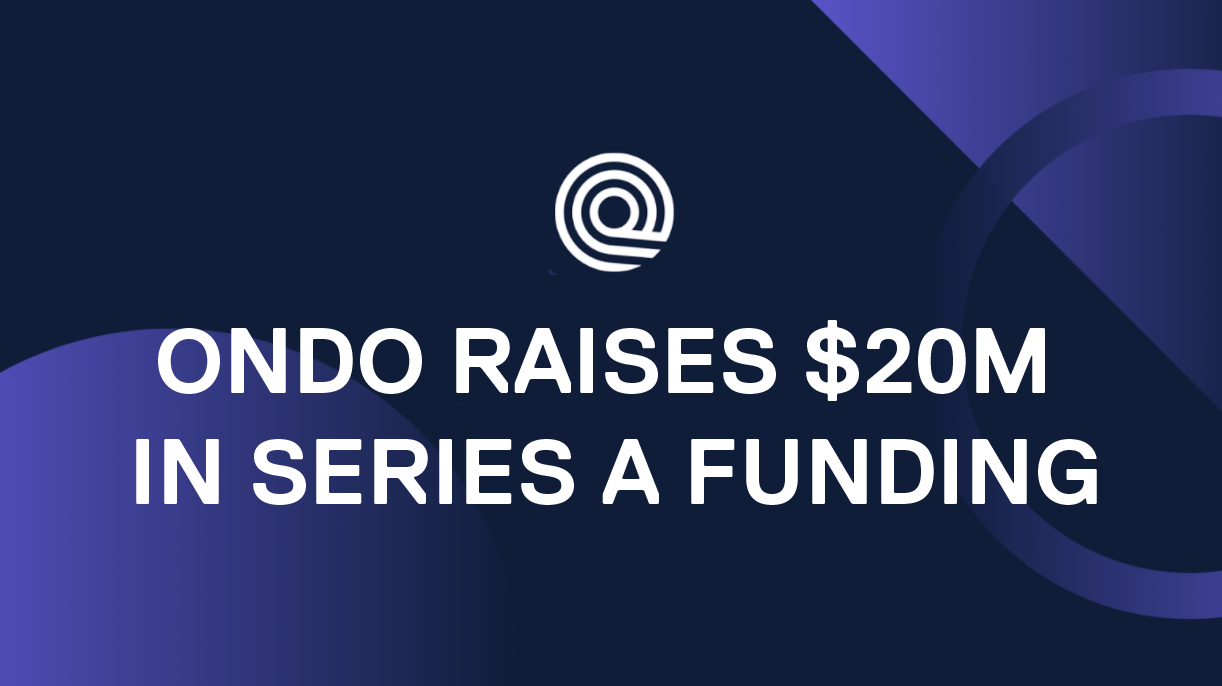 We're delighted to announce that Ondo Finance has raised $20M in Series A funding to accelerate the adoption of DeFi through the servicing of key stakeholders, including decentralized autonomous organizations (DAOs), institutions, and retail investors.
The equity round was led by Peter Theil's Founders Fund, and Pantera Capital. Strategic investors joined the round including Coinbase Ventures, GoldenTree, Wintermute, Steel Perlot, Tiger Global, and Flow Traders, among others.
The funding will allow Ondo to continue to build our world-class team, while supporting the development of additional products with the aim of increasing the breadth, usefulness, and accessibility of our offerings. We will also soon be launching the ONDO token, with associated DAO governance to follow.
What is Ondo?
Ondo Finance is building a decentralized investment bank. Like a traditional investment bank, Ondo aims to be a hub matching those who have capital with those who need it through the creation of customized financial products (e.g. equities, bonds, structured products, derivatives, etc.) that organizations can offer to investors to raise money. Historically, this work has often been highly manual, expensive, and reliant on intermediaries.
Decentralized finance (DeFi), however, presents novel infrastructure and financial primitives to enable investment banking activities that are automated, composable, and accessible to everyone. Ondo's focus is to build software that finds attractive investments across the traditional and DeFi landscape, repackages these assets into easily understood risk/reward offerings, and then matches and offers these assets to both institutional and retail investors.
For more information on how Ondo works, visit "Introducing Ondo Finance" or read our full documentation. You can access the Ondo web application at https://ondo.finance/.
Our Investors
We are extremely grateful for the continued support of our venture and angel investors as we work together to bridge the worlds of decentralized and traditional financial services.
Paul Veradittakit, Partner at Pantera Capital:
"The growth of algorithmic stablecoins and expansion of DeFi from Ethereum to other blockchains has led to tremendous yield opportunities but with greater complexity and risks. Ondo will make it possible for investors to get passive exposure to this increasingly scattered but abundant yield while receiving downside protection or enhanced returns."
Napoleon Ta, Partner at Founders Fund:
"We're incredibly impressed with the early success of Ondo's structured products and we're excited to see the team expand its offering. Built by a world-class team at the intersection of crypto and institutional finance, Ondo is well-positioned to be a preeminent player in the continued ascent of DeFi into mainstream adoption."
Behind Ondo
Ondo is being developed by a team of traditional banking veterans and DeFi experts. Our team includes alumni from Goldman Sachs Digital Assets and Blockchain R&D, Facebook, Microsoft, Symbiont, BadgerDAO, private equity funds, hedge funds, and various venture-backed start-ups.
If you are interested in joining our team, we are hiring for full-time roles and would love to hear from you.
Keep up with Ondo
We have a lot of exciting announcements coming up, including new products and the launch of the ONDO token and associated governance.
If you haven't already done so, we'd love you to join our growing community on Discord, Telegram and Twitter.
Legal Disclaimers
This announcement has been written and published by Ondo Finance Inc. and provides no guarantee, commitment, or undertaking to utilize any of its assets, funds, properties or personnel, Ondo Protocol users or other protocol participants. Ondo Finance does not owe, and does not intend to assume, any duties or obligations to Ondo Protocol users or participants, other than duties or obligations arising under laws of general application, such as non-waivable torts.
To the maximum extent permitted by applicable law, all software relating to Ondo Protocol is being provided on an as-is, where-is basis, with no representations or warranties being made to Ondo Protocol participants and with no liability to Ondo Finance or any other person involved in the development of Ondo Protocol. The statements set forth in this announcement also are not intended to be representations, warranties, guarantees or assumptions of duty or liability of any kind, and Ondo Finance hereby disclaims the foregoing and will not be liable for any damages arising from use of Ondo Protocol. In the event of any conflict or inconsistency between this announcement or any other communication and the terms of any software license involved in Ondo Protocol, the terms of the software license shall govern to the exclusion of this announcement and such other communications.
The forward-looking statements in this announcement are subject to numerous assumptions, risks and uncertainties which are subject to change over time. Such assumptions, risks and uncertainties could cause actual results or developments to differ materially from the results and developments anticipated by us. Even if our anticipated results and developments are realized, such results and developments may nevertheless fail to achieve any or all of the expected benefits anticipated by this announcement. We reserve the right to change the plans, expectations and intentions stated and implied herein at any time and for any reason or no reason, in our sole and absolute discretion, and we undertake no obligation to update publicly or revise any forward-looking statement, whether as a result of new information, future developments or otherwise.
This announcement is not intended to provide legal, financial or investment or other advice and we recommend that you do not rely on, and do not make any financial or other decision based on this announcement.